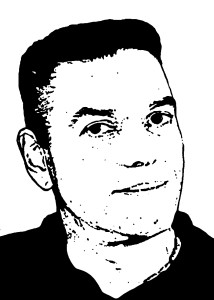 Marco van der Hoeven (1957) played bass guitar in various rock bands in the early 70s.  Between 1976 and 1984, he was part of all the major The Hague punk bands; Mollesters, BVD and (was singer at) Hollands Glorie, bands that played regularly at many Dutch venues and festivals. After that he played in two reggae bands, Head & Shoulders and Riddim Squad.
From 1977 to 1979 he worked as a theater technician at the Haagse Comedie. In 1980 he established the first video workshop of  The Hague's major music venue Paard van Troje (the Trojan Horse) and filmed many concerts there, including U2 and Killing Joke, but also at Paradiso and other music venues, and during festivals. From 1983 he focused on sound technique and toured ao with Batmobile and Candy Dulfer's Funky Stuff. In 1989 he became Chief Engineer of the Paard van Troje and did sound reinforcement for many well-known artists such as Curtis Mayfield, Screamin 'Jay Hawkins, the Skatelites and many others. As a freelancer, he worked at 17 editions of the North Sea Jazz Festival and at festivals such as Crossing Border, Drum Rhythm and Lowlands.
In 1999 he started the musical "Piaf" for V & V Entertainment and led two successful seasons. He accompanied leading lady Liesbeth List and the musical, as head technician, and also provided Front of House sound. This was followed by work as head technique and stage manager at Theater aan the Spui, the Rotterdamse Schouwburg and Muziekgebouw aan 't IJ, Amsterdam.
In 2013 he launched the Vintage Microphone World website; an informative site about everything to do with vintage microphones.